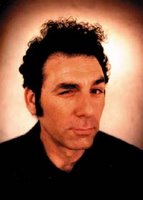 TMZ has video of Michael Richards
, better known as "Kramer" on Seinfeld, going on a racially-charged rant after two black people heckle him in a comedy club in LA.
The camera started rolling just as Richards began his attack, screaming at one of the men, "Fifty years ago we'd have you upside down with a f***ing fork up your ass."

Richards continued, "You can talk, you can talk, you're brave now motherf**ker. Throw his ass out. He's a nigger! He's a nigger! He's a nigger! A nigger, look, there's a nigger!"
The video is interesting as it's not just a totally manic rant, well it is, but he becomes self-consciously aware of the impending controversy, and eventually tries to appeal to the crowd, "They're going to arrest me for calling a black man a nigger."
When is a word that's just a word, not just a word? I can understand the confusion for white people. You loved Chappelle's Show. You see an offensive character like Borat become a box-office superstar. And you've got a guy like Damon Wayans trying to
trademark the word
. There is obviously a rising comfort level. And it's not just wacky entertainers like Kramer,
teachers are letting it just roll off the tongue also
. But it's best to just let it go, don't go there. It's not edgy coming from you. Maybe after we get a black president, we'll feel a little more secure in our position, and adjust some of the laws regarding "n-word" usage, but for now hold back. The double-standard remains in effect, ni**as can say it, crackas can't. Sorry.
Kramer's Racist Tirade
[TMZ]
Trademarking Racism
[TAN]
"Can You Loan A Ni**ah A Pencil?"
[TAN]